The people that make the stuff.
Our amazing team knows how to get the job done for our clients. We pride ourselves on excellent customer service that focuses personal attention on each client. In addition to our in-house team, we partner with high-caliber talent that we have built relationships with over the years. Clients can rest knowing they are getting top-notch service from a team they can trust.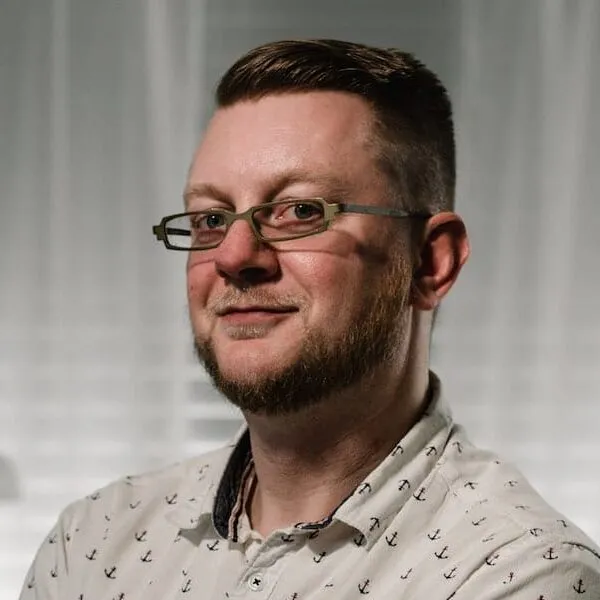 Matthew Fridg
Owner/Marketer/Filmmaker
Matthew Fridg is the founder and marketing strategist at Headspace Media. As an Emmy® award-winning filmmaker, Matthew has an impressive portfolio that includes projects for renowned brands such as Facebook, NFL, Discovery Channel, Fox, GNC, Velocity Network, Freethink Media, Martin Guitar, and more. His work has reached tens of millions of viewers online, showcasing his remarkable ability to craft compelling stories with a cinematic touch.

In 2019, Matthew leveraged his extensive experience in creating captivating films for brands and took the bold step of founding Headspace Media—an innovative marketing agency and content studio. Since its inception, Headspace Media has experienced remarkable growth, serving clients across the country and playing a pivotal role in driving millions of dollars in revenue growth for its esteemed clientele.

Matthew's passion for storytelling and his commitment to delivering exceptional results have made him a trusted partner for businesses seeking to elevate their marketing strategies. With his keen eye for visual storytelling and deep understanding of audience engagement, Matthew and his team at Headspace Media have helped clients achieve remarkable success in their marketing campaigns.
Whitney Rusiewicz
Account Manager
Whitney Rusiewicz, account manager at Headspace Media, plays a pivotal role in fostering team cohesion. With her remarkable organizational skills and effective communication, Whitney creates a professional and enjoyable atmosphere for both clients and staff alike. Her unwavering dedication to helping others succeed is evident not only in her professional endeavors but also in her personal life.

Driven by her passion for making a positive difference, Whitney followed her heart and embarked on a journey to become a foster mom to numerous children. Through her selfless act of fostering, she has provided a nurturing and loving home for many young lives. As a testament to her commitment, Whitney has also welcomed two children into her family through adoption, bringing immeasurable joy and love into their lives. Learn more about her foster and adoption journey here.

Whitney's remarkable ability to balance her role as an account manager and her commitment to fostering and adoption showcases her exceptional character and compassionate nature. Her unique experiences and perspectives further enrich her interactions with clients and colleagues, as she approaches each relationship with empathy and a genuine desire to see others thrive.
Maggie Takrony
Digital Marketing Specialist
Meet Maggie Takrony, a Digital Marketing Specialist at Headspace Media. With 5 years of experience, Maggie has been working closely with small businesses and local entities, helping them boost their sales and visibility through creative marketing strategies and tailored campaigns.

Driven by a genuine passion for marketing, Maggie finds joy in the ever-changing nature of the field. She loves the perfect blend of creativity and technical expertise that keeps her engaged and excited every day.

At Headspace Media, Maggie is on a mission to support local communities and small businesses in thriving. She offers her expertise and friendly assistance wherever it's needed, ensuring that her clients receive comprehensive marketing solutions.

With Maggie's friendly demeanor and professional approach, she becomes a trusted partner in her clients' journeys. She's determined to empower small businesses and contribute to their success, ultimately fostering vibrant local economies.